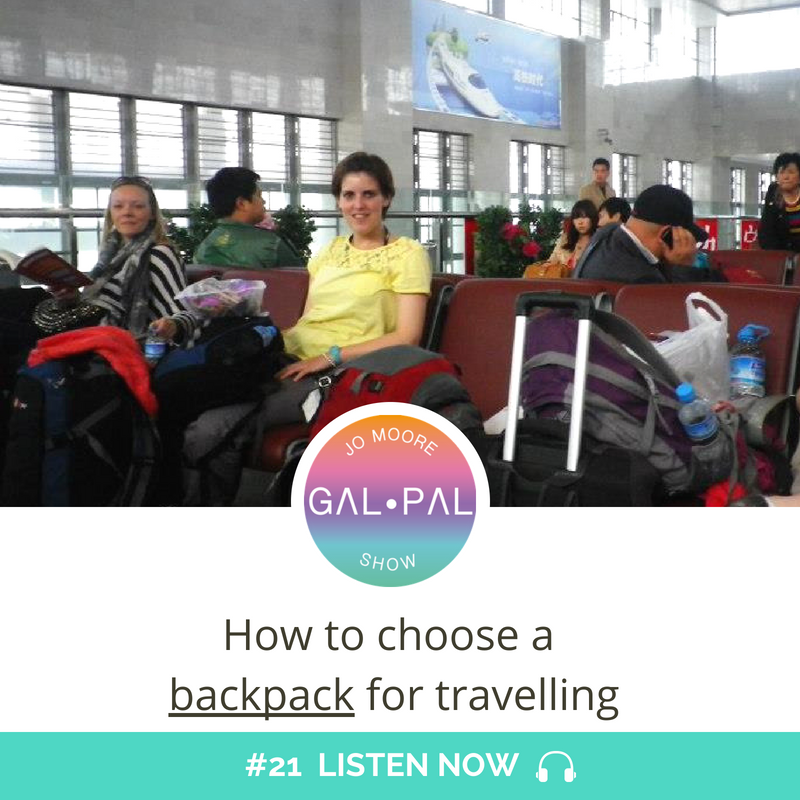 Getting the best backpack for your travel, is so important. There are a lot of things you need to think about, when choosing the right one for you. But don't worry, I have recorded this special episode with my favourite tips on how you can get the best backpack and be the queen of the backpackers.
I spent a lot of hours researching backpacks to find the perfect one for me. And by perfect, I mean the backpack that would be the most convenient for travelling. 
I got a lot of compliments from other backpackers and travellers on how great my backpack was. It was not the most expensive backpack or the typical "travellers backpack". Instead it was the most practical and had some great additions that you'll love...
Listen now...
This travel episode is about ...
Backpack is the preferred bag to take travelling

Tips on what to look out for when buying a bag 

Travelling for over a month? Take a backpack, its easier.

Getting used to the weight

Get fit for travel – strengthen core muscles before you go (episode on this coming soon)

My top Tips;




1) Spend the money on a good, quality backpack that's durable and strong


2) Have a zip that goes all around the case – not a top opener (see pics here). This also means you can padlock your bag for safety.


3) Have a smaller bag attached to the front. You can detach it and use it as your flying bag and know it's the correct size for all airlines around the world.




4) Have a zip on the bottom of your larger backpack which is a separate compartment in your backpack.




5) Have a secret compartment inside your backpack. This is where you can keep copies of your passport and emergency cash, just in case.




6) Have plenty of carry handles on the bag so you can easily pick up the bag in a rush.


7) A cover that zips up the shoulder straps for when you check your bag in at the airport (see pics here). Airlines request that shoulder straps on a backpack are covered, as they can get caught on airline equipment. This means either a cover or masking tape the straps to your bag.


8) Having a waterproof cover already attached to the backpack. This will save you having to buy one separately and instead it'll have its own pocket on the bottom of your bag.




9) Choose a lightweight backpack, that's strong and durable.
Get a backpack fitted your local outdoor shop. They'll match your height and your needs.

Screen shot my tips and take them with you when buying your backpack.

Your backpack really does become your home, so get the best bag you can.
Have a question? Ask me here
All Show notes at galpalshow.com
Episode Links:
#10 Foods to avoid eating on a plane
#9 How to stop getting jet lag
#7 Don't fly without these cabin bag liquids