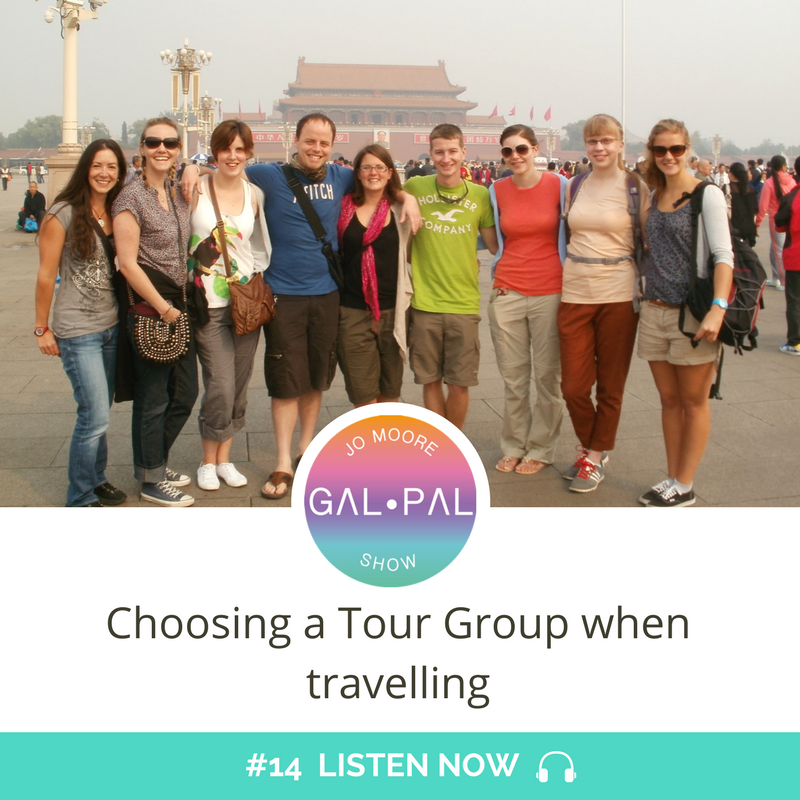 Tour groups are a great way to start your travel adventure and get you meeting new people. You get to go to all the places that you want, gain more confidence and have others in the photos with you!
They're great for first time solo female travellers, and more experienced travellers. But, choosing a tour that's perfect for you can be challenging... 
Listen now to get the best advice on choosing a tour that's right for you and my experience of using tour groups...
This travel episode is about ...
Why joining a tour group is a great way to meet other Travellers

Using a Tour group in China and India when starting my round the world trip

I was a first time traveller – didn't initially have the confidence to go alone

Kavita was the first guest on the Show and travelled alone to China – check out her episode here

Relax and enjoy the journey, your itinerary is already set out

Great for solo female travellers – safety and have company

Mix with a group of people – meeting some friends for life and share experiences and get close quickly

Someone in your photos too! 

Quick tips:




Do your research see what different tours offer. What do you want to see, do and experience when you're in that city / country – do they cover it?




What's included in the price? Ideally you want accommodation, transport, breakfast and evening meals (lunch would be a bonus)




How many people on the tour? Large or small groups? (I prefer smaller groups as they're more personal)




More flexibility on what you can do – large groups have a very fixed itinerary




Reputation – has the tour group got good reviews and are they relevant to you?




Price – have you got a good deal? I don't mean have you got the cheapest price possible, as the cheapest certainly does not mean the best!! I mean do you see everything you want to see, do you get accommodation, transport, meals included? Do you get excited when you read the set itinerary? If yes, then it's a good deal.




In perspective, I paid £1500 for my trip around China and I got to do all that I wanted a so much more!  
Episode Links:
#1 Solo female travel during a Career Break
#15 Accidentally meeting the Dalai Lama
Sign up to our Private Facebook Group here