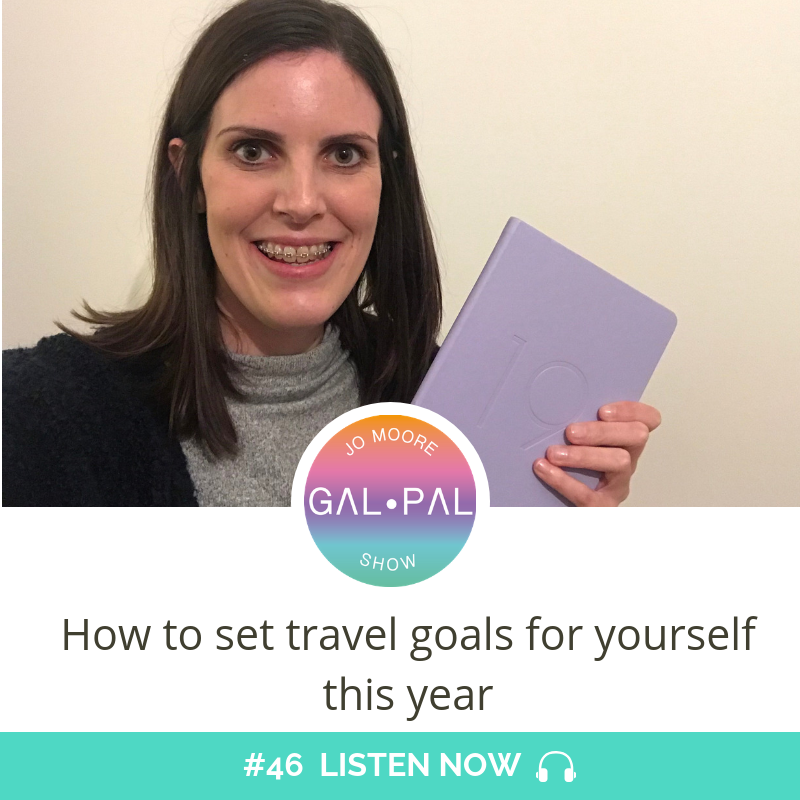 What's the perfect way to start 2019? By setting travel goals of course!
This episode I'm sharing my travel plans for 2019 and giving you some advice on how you can set travel goals for yourself, this year too.
What are your travel goals this year? What do you want to get out of 2019? And where to you go in the world this year?
This episode is perfect if you want to go travelling this year, or want to start planning for a round the world trip. 
Get the Free travel planning workbook – this will help you plan your trip and get you travelling
This episode is about;
My main reason for travel this year
This year is the first time that I've planned my travel goals so far in advanced and been this organised. I'm also changing my travel style this year as I'm travelling with my boyfriend. This will be the first time in 5 years, that I've travelled with a partner, so it's going to be a challenge.
My mini travel goals this year as travelling to London, Dublin and a spontaneous trip to another country in Europe.
I'm still continuing with my long term goal of learning Spanish, in preparation of my travel plans of travelling Central America in 2020.
Gal Pal Travel Planning Bootcamp – help you plan your personalised travel itinerary
How to get started now;
Think about a destination that's far away (long haul) – where would that be for you?
Then have some mini trips that are closed to your home
Take some time to think about where you really want to be this year
Pick somewhere that you'd really like to go. Or something you would really like to dos
I'm at the beginning of 2019 right now, wouldn't it be great if ­­­­___________________ by the end of 2019.
By the end of 2019, I  ­_____________________________.
Want a shout out on the show? Message me here or email me directly here
Free travel planning workbook – this will help you plan your trip and get you travelling
Gal Pal Travel Planning Bootcamp – help you plan your personalised travel itinerary