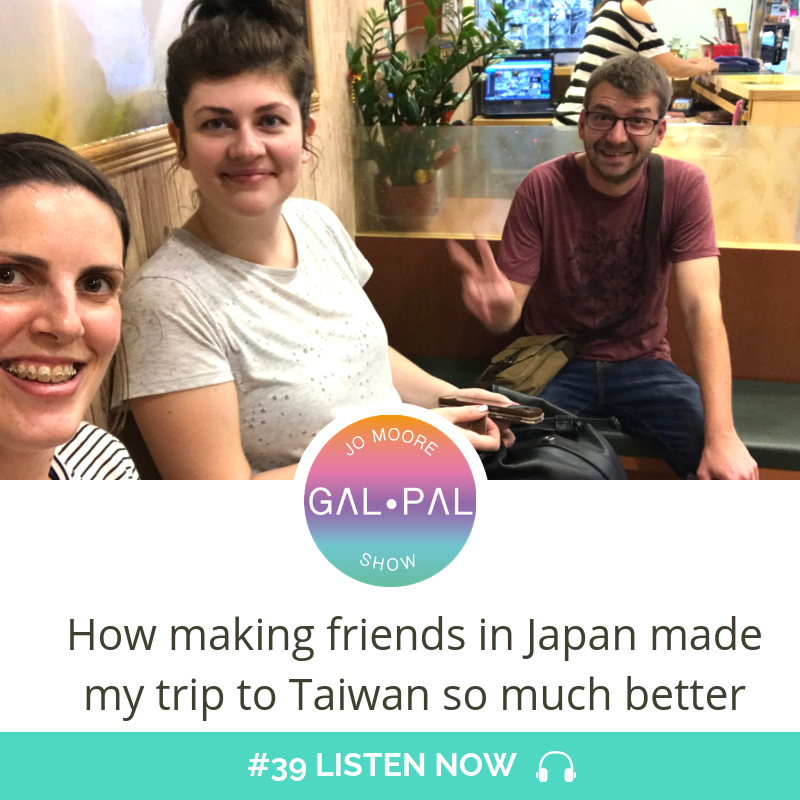 Last episode I told you that I discovered just 3 days before flying back from Japan, that I was in the wrong city for my flight home. The city I was supposed to be in was 214 miles away and on the other side of the country.
In this episode I explain, that by making this mistake I ended up having an incredible time in Taiwan - the next part of my trip. I met some amazing travellers that proves...
'You never know who you're going to meet and how they can change your travel experience'. - My mum.
I love this about travel, and this is what makes me go back for more...
Massive thank you to you gals that have already subscribed to Gal Pal Show! 
I'm launching the very first gal pal course – and I'm offering you gals something really special for the course – so sign up to receive gal pal emails here
This episode is about...
How messing up my flight home meant that the timings and circumstances fell into place and travel just flowed and worked well
Met a young guy called Alex who was from Texas – very interesting to meet him
My timings with Alex were impeccable – he landed into Taipei, Taiwan 15 minutes before I did
You meet people that you wouldn't cross paths with in your everyday life back in your home country
I love it when you meet those people and you just have a connection and you just get on
Takes your experience to another level when you meet people you have a deeper connection with than the general chit chats
Listen to episode 34 on How travelling gets you friends for life
Even now I still meet people travelling that I end up becoming good friends with when returning home
You'll meet people and be in contact with them when you return home and have them as friends for life.
It really does happen
Sign up to Gal Pal Academy here - where you'll hear more on what I get up to