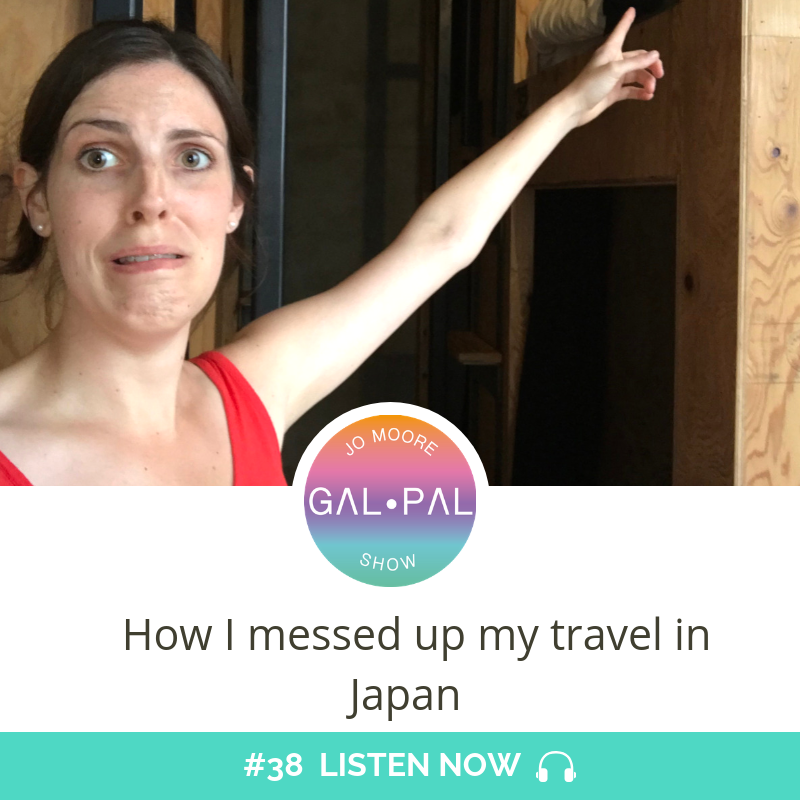 I'm an experienced traveller and I'm confident in my ability to travel. But this doesn't mean I get everything right all the time.
I made a massive mistake with booking my return flight home from Japan, and managed to book the wrong airport...the actual airport was 214 miles away!
I had to think on my feet, change my plans to adapt and keep moving forward. But knowing that everything works out in the end is a huge comfort!
Listen now to hear how I managed to rectify my mistake and turn it into a mini adventure and not get stressed out!
Subscribe to Gal Pal Show and get episodes downloaded automatically every week! 
Sign up to galpalacademy.com – I'm releasing a travel planning course very shortly…
This episode is about...
My trip to Japan – booked and was flying within a week of making a decision to go
Listen to episode 35 – being spontaneous and travelling to Japan
I had a niggly feeling when planning my trip but ignored it.
When I booked my flights, I accidentally booked the wrong airport returning from Japan
The airport I'd booked wasn't even in the same area, it was actually 214 miles away (345km)
I didn't discover my mistake until 3 days before I was leaving the country – luckily for me
Managed to tick some things of my "list" that I had for Japan
Found a fruit that only exists in Japan and had a yummy drink with it in!
Saw a stunning sunset, which is one of my fave things.
Double check the important things, but know that even if things do go wrong, you've got it! You'll work out what to do.
Tied in nicely with the next part of my trip in Taiwan… next episode...
Remember, everything works out in the end!