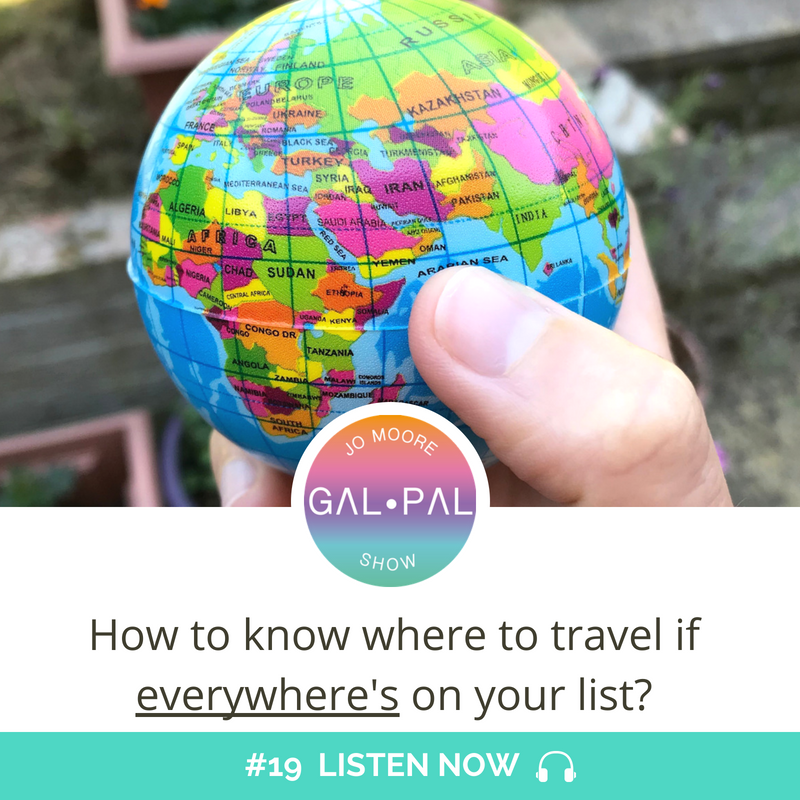 Do you find yourself telling people that you want to go everywhere? Do you know exactly where you want to travel? This episode is perfect for you. I'm giving a simple technique that'll help you know exactly where you want to go travelling. More importantly, why you want to go there. 
I met an 18 year old recently who wasn't sure where she wanted to travel, only that she wanted to travel everywhere. She wasn't able to give any specific places or ideas of things that she wanted to do. I used two of my techniques to help her define the places she wanted to go to, so she could start planning her trip.
By breaking down 'everywhere' into manageable chunks, you're then able to see your travel adventure and know the reasons why you want to do it.
Listen now to hear my techniques on travelling everywhere.
This travel episode is about ...
Breaking down the term 'everywhere' into manageable chunks

Wanting to go everywhere is brilliant – means you're open minded, you want to experience different cultures, going to get you far

Allow whatever comes up in your mind, just be calm and relax




Technique 1: 




If you can only pick one continent, where would you pick?




Why? What are the reasons for you wanting to go to that specific continent?




Go further. Think more about that continent. What else is there that you want to do?




What feelings do you want to have when you're there? If you're there right now how do you want to feel?




Example 1 – North America because I love the idea of being able to drive and see open desert and open landscape. I would feel free, energised, and be loving it.




Example 2 – Australia because I love their laid back lifestyle, they speak English but have a great accent and have different meanings for words. I would feel happy, young, energised and warm in the sun.




Next time someone asks you – say the place you just gave and go straight into the reason – don't justify to them




Example - I would love to go to north America. I'd love to just drive and drive.

Technique 2 - If you cannot pick one continent or wanted to go further




Choose 1 country in each continent and keep asking 'What else?'

Write your ideas down, draw pictures

Don't be put off by having "different" ideas to the normal

The key is to pick one place and concentrate on that and build it up
Have a question – ask me on Instagram here
Episode Links:
#12 - Planning to have no plans when Travelling
# 16 - How to make travel goals happen